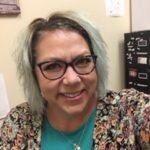 I Suffer from PTCLD
by Mary Gruis, Ridgewater College
Greetings from the Chair:
When I wrote this piece, I think I was still recovering from Post-TYCA Conference Let Down (PTCLD).  Yes.  I believe it is a real condition.  My friend and TYCA pal, Sybil Priebe, described it in this way… "You get all excited for the impending conference.  You spend the weekend with your peeps.  You learn so many great new ideas to use in your classroom.  You are overwhelmed by the love everyone has for their subject matter.  You leave the conference, tired, but also rejuvenated.  You get home and immediately start missing all the people you see only at the conference each year and all the fabulous new people you networked with."
Yes.  It is a real condition.
It took me some time to recover from the conference in St. Paul, Minnesota—because, oh, was it fabulous!  Starting with the "Open Mic" reception on Thursday night, to Julie Schumacher's keynote on Friday, and wrapping up on Saturday with fabulous presentations from passionate educators from around our region and beyond, that conference was a huge success.  I walked away feeling like my students were the big winners.  I had tips and tricks and new approaches that I could implement immediately upon my return to the classroom.
But… as the PTCLD condition cycle suggests, I am already missing the people…
For the next conference, we will gather in Indianapolis, Indiana.  I encourage you all to start thinking now about what you want to experience at the next conference.  What presentations did you see at the last one that gave you pause, that got you excited, that made you start planning for your own classrooms?  What could you share with us in Indy?  I do things in my classroom today that came directly from TYCA presentations I have attended in the last ten years.  I want to know what you do in your classrooms.  I am interested in your "a ha" moments, in your successes, and in your challenges.  This is why we gather every October.  This is why I ran for the Board originally. And, this is why I accepted the Chair position.  This conference helps me see the possibilities when all I can see are the challenges in my own classroom.  I look forward to seeing you all in Indy next October!
…already moving into the next phase of PTCLD…  Looking forward to seeing you all again.