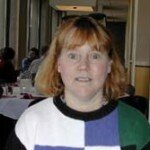 2015 Nell Ann Pickett Award Winner
For her outstanding dedication, service, and leadership, Leslie J. Roberts of Oakland Community College, Orchard Ridge Campus, Farmington Hills, Michigan, has been selected as the 2015 winner of the Nell Ann Pickett Service Award.
This award honors an outstanding teacher who exemplifies creativity, sensitivity, and leadership. It is named for Nell Ann Pickett, professor of English at Hinds Community College, Raymond, Mississippi. Pickett was instrumental in the creation of TYCA and served as editor of the TYCA journal, Teaching English in the Two-Year College, from 1988 to 1994. The award was presented at the CCCC Awards Ceremony during the Conference on College Composition and Communication Convention in Tampa on Friday, March 20, 2015.